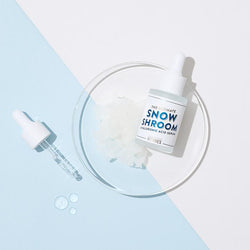 The Ultimate Snow Shroom HA Serum
Meet The Ultimate Snow Shroom Hyaluronic Acid Serum. She's a lifesaver for all skin types. She's gentle and fits seamlessly into any skincare routine to achieve pillowy soft, perky skin. Suitable for the thirsty and parched skin, the everyday normal joe and even the oily skin types. Hyaluronic acid hydrates by holding water, allowing the skin to slowly absorb and plump up. We all can do with a little HA in our lives.
Featuring hyaluronic acid from snow fungus (tremella) and tamarind, this ultra hydrating serum is  made with a total of 7 molecular weights, with a wide range from extremely low, medium and high molecular weights to deliver a complete, multi-layer boost of hydration to keep your skin, keeping plump and bouncy all throughout the day.
Key Ingredients and benefits:
💧 7 molecular weight Hyaluronic Acid (HA) to deliver a complete multi-level boost of hydration to your skin.
🌈 Suitable and beneficial for
all skin types
🍯 Honeysuckle extract has anti-inflammatory properties that can help to reduce redness and calm skin
🌿 A plant based, fragrance free and essential oil free formula.
To Use:
Use twice daily in the AM and PM. Best used with a moisturiser after. 

A skincare routine can look like this:
Cleanser  > Toner > Serums (HA serum goes here!) > Moisturiser/Cream > Facial Oils
Made with superstar ingredient, Tremella Fuciformis that has the ability to absorb into the deeper layers of the skin works to 

enhance skin elasticity

 and helps 

plump and smooth out fine lines.

Contains Tamarind Seed Gum that moisturises and smoothens the skin.

Helps repair skin's moisture barrier and improve skin texture.

Helps replenish and retain skin moisture.

Suitable for all skin type.
After cleansing and toning while your skin is still damp, apply 2-3 drops directly to skin and gently massage/pat it on the face and neck area using fingers until absorbed.
Seal in all the skin plumping goodness with a facial moisturiser after.
Alternatively, mix 2-3 drops to a facial moisturiser.
Perfect for daily use, day and night.


NOTE: It is important to gradually introduce a new skincare product into your skincare routine, even if your skin isn't sensitive. If this is your first time introducing an active ingredient into your skincare routine, we highly recommend to do a patch test on a small section of skin behind your ear or inside your elbow for 24 hours to check for any allergies. 
Domestic shipping - $6.99 flat rate 
*within the contiguous United States.